Vietnamese Chevening alumni raise the bar in paying it forward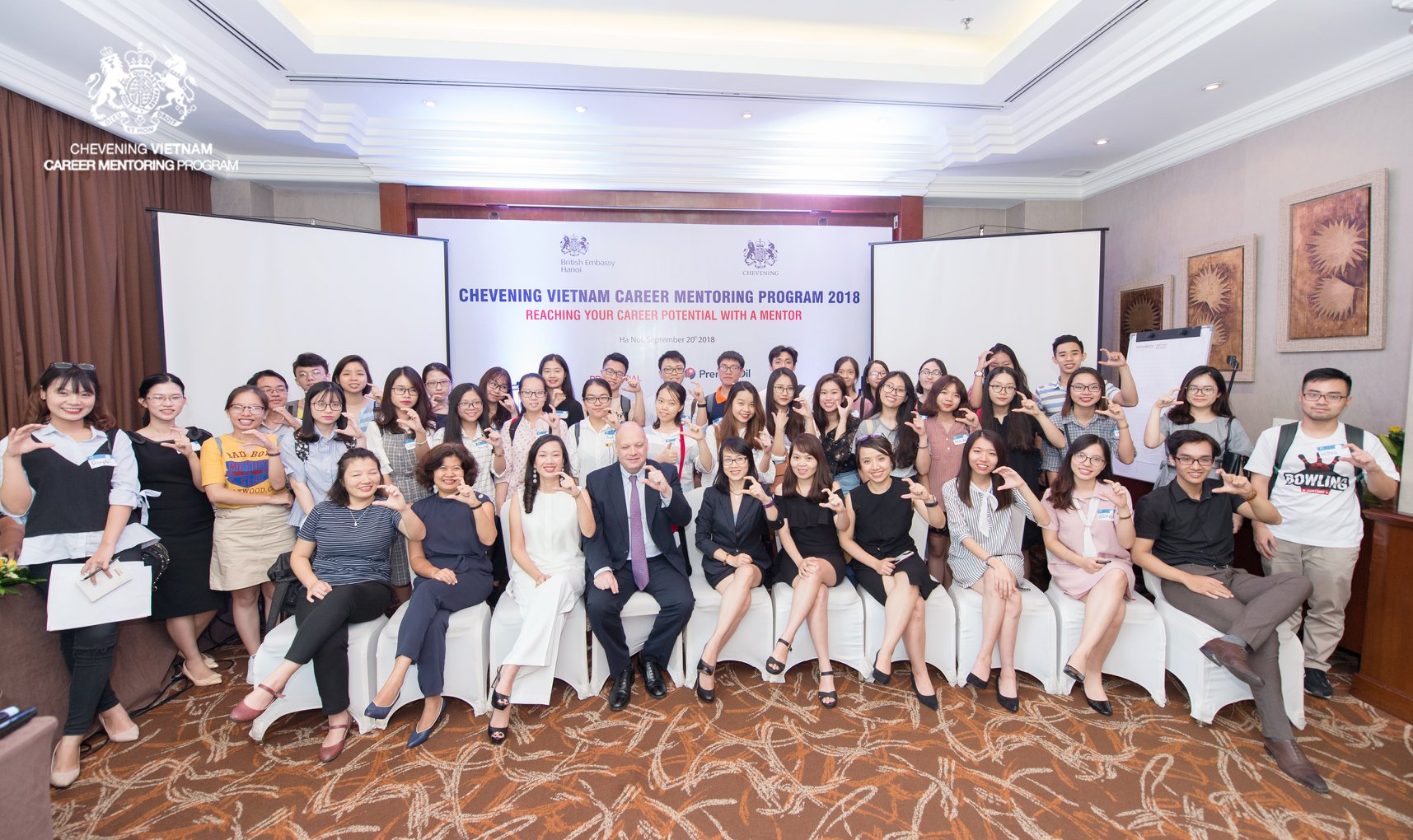 The 500-member strong community of Vietnamese Chevening alumni has become a driver for change in one of the fastest-growing economies in the world. Coming back home after their study in the UK thanks to the Chevening scholarships, they have continued to take important roles in all industries, both government and private sectors, and launched many remarkable initiatives to make a profound impact on society. Among them is the Chevening Vietnam Career Mentoring (CVCM) programme, which supports young talents in career orienting before university graduation. Throughout the years, mentees participating in the programme have found it a life-changing experience to better understand themselves and the industry of their choice.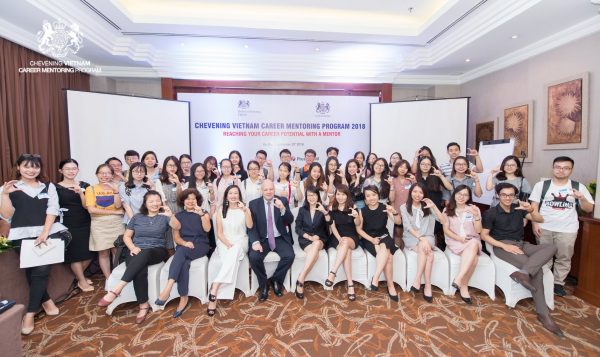 A life-changing experience for young Vietnamese talents
Just like many Vietnamese final year university students, four years ago, Le Nguyen Cat Tuong was deeply confused about his career path. Yet, he was fortunate enough to meet Vo Sang Xuan Vinh, one of the co-founders of CVCM and an MBA holder at Birmingham University, who provided him valuable advice on his career plans and advancement – all at no cost.
"It is a mentorship that leads to a big change later on", Tuong looked back at the precious opportunity. Vinh, an MBA alumnus in Banking and Finance at the University of Birmingham and an advisor in corporate finance, has shifted Tuong's perspective towards the sector, broadened his mindset and explained to him how the financial markets work. Through a series of "why" questions, Vinh helped to navigate Tuong's thoughts in finance career planning.
Tuong is now a capital advisor at Shelev Capital, a Ho Chi Minh City-based financial advisory company specialised in corporate fundraising. Through many ups and downs of his career, Tuong still has a lifelong mentor to confide in, as he said at the coaching and mentoring skills session held virtually on 18 April by CVCM for new mentors.
Not only Finance, students studying Law, Marketing, Media and Communication, Economics, Journalism and Human Resources were also offered the chance to take part in the programme.
Phan Thi Y Nhi was a shy, introverted student who had suffered from serious depression and struggled with studying in the first three years at the Finance – Marketing University. "CVCM lifted me out of the dark, helped me express myself with confidence and get to know many amazing and warm people", Nhi reflected, after receiving mentorship from a Chevening alumnus specialised in Human Resource management in 2018. A few months later, she was offered a job at Elise, a famous Vietnamese fashion company after winning first place at Whose Chance, a local reality TV show on job hunting.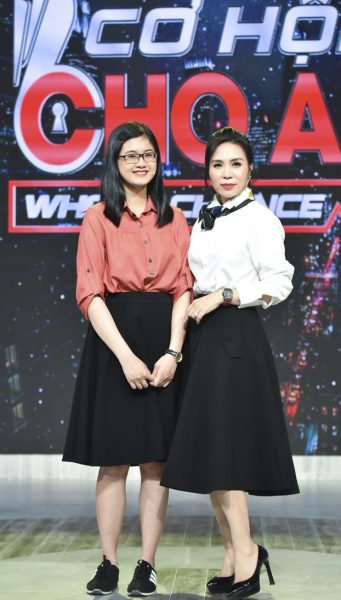 Since its inception and trial run in 2012 followed by the formal launch in 2016, CVCM has been regarded as a career springboard for as many as 120 gifted Vietnamese university students like Tuong and Nhi – some of them were later recruited by high-profile organisations in both public and private sector – Ministry of Foreign Affairs, National Assembly, Action Aid, Unilever, VILAF, and Ogilvy to name a few. This 5th season, extending to students studying Project Management and Business Development, kicked off in April 2021 and aims to recruit up to 30 mentees out of more than 230 applications. Mentees are chosen based on their merits, both academic and professional, and equally important is their leadership potential – aligning with Chevening Scholarship criteria.
The programme is managed and run by an Executive Team (consisting of both Chevening alumni and the mentee alumni) and advised by an Advisory Board from the programme's founders and senior Chevening Alumni members.
Living up paying it forward
"Employees who received mentoring were promoted five times more often than people who didn't have mentors", said British Embassy Hanoi's Head of Internal Political Section Stephen Taylor, introducing CVCM as one of the community initiatives that the embassy is most proud of.
"This year, there are 16 mentors in various sectors ready to guide Vietnamese final year university students to make their own decisions and make their own conclusions. They are not only the leaders in their fields but also those with an international perspective, having spent a year pursuing their Master degrees in the UK", the second secretary said.
CVCM's volunteer mentors are committed to helping their mentees to have a clearer picture of their career. During a six-month mentoring period, each pair of mentor and mentee will work on self-assessment of career anchors, career goal setting, and skill development – followed by an evaluation workshop at the end.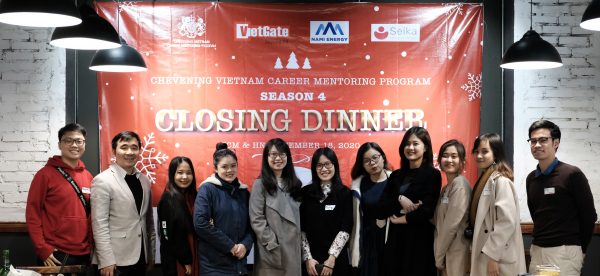 The programme has given dozens of Vietnamese Chevening alumni like Vo Sang Xuan Vinh a chance to perform the art of paying it forward and giving back to the community. One of the two main sponsors of the CVCM for the past two years is Nami Energy, a renewable energy company established by Luu Hoang Ha, a Chevening alumnus, CVCM's co-founder, and law mentor.
"Nami Energy's mission is to help build a sustainable future through green growth, fitting well with CVCM's mission of investing in talented young students for a better future", said Luu Hoang Ha, Chairman of Nami Energy.
Furthermore, there are four other Chevening alumni in law, finance and communications currently working for Nami as core team members and senior consultants – making the company perfectly demonstrate the paying it forward spirit of the Chevening scheme in general and the CVCM programme in particular.
Apart from Nami Energy, throughout the years, the programme has been made possible thanks to the generous financial sponsorship from other Chevening alumni-owned enterprises such as Vietgate, Seika Medical Group, the individual financial contribution of some Chevening alumni as well as major UK companies including Prudential and Premier Oil.
By Giap Nguyen
---