Chevening Chinwag #03: Integrating Software Developing with Journalism, Building a Sustainability Game, and the AGENDA TikTok challenge!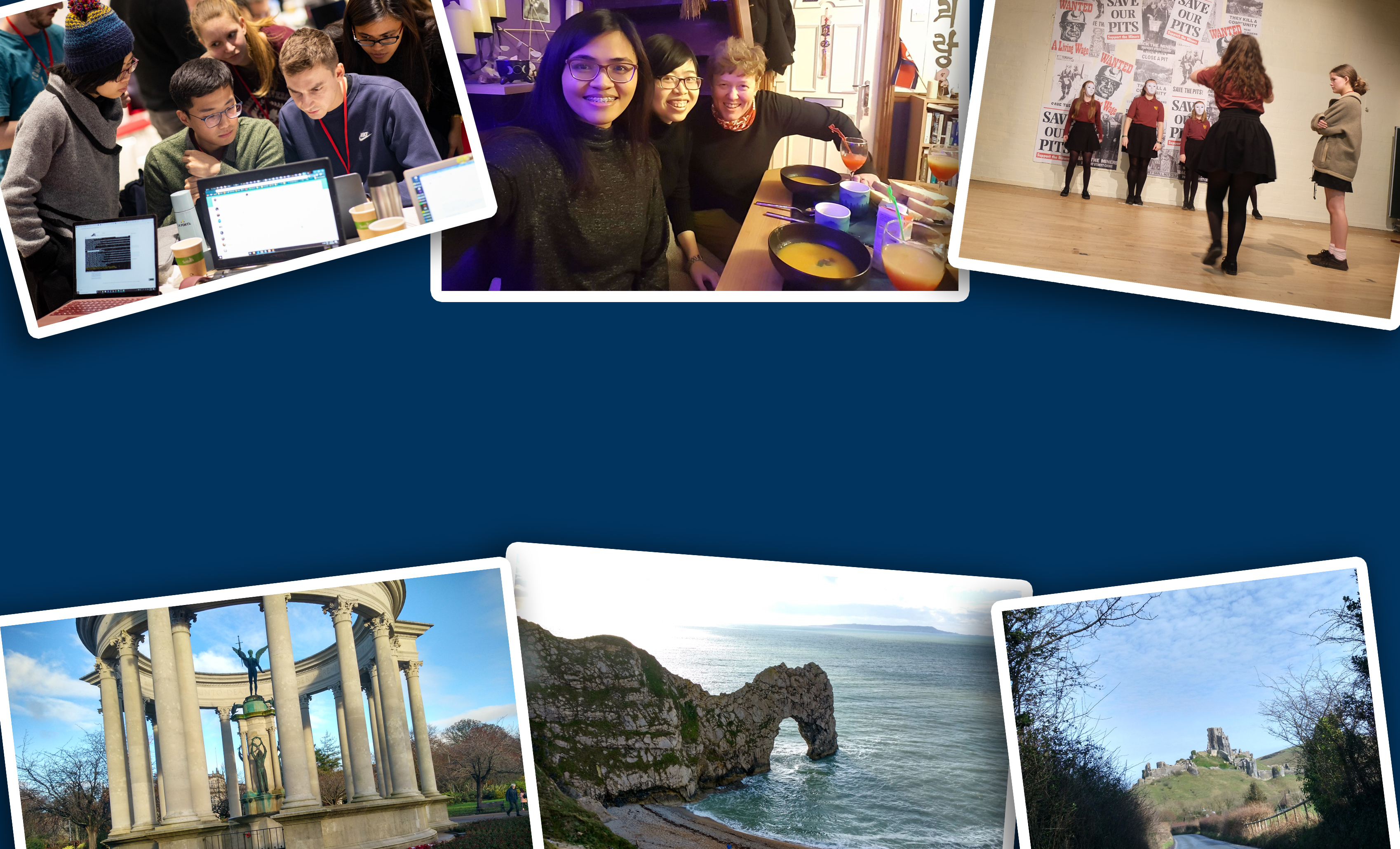 Chevening Chinwag* is a series of informal pleasant conversations with our Vietnamese Chevening scholars, who are currently experiencing their exciting, challenging, and life-changing Chevening journeys.
Read along and you will gain insights into:
Personal reviews of UK universities: in-class learning method, university facilities, available support to international students;
Tips on how to maximise their UK experience: attending Chevening activities, university workshops, interning, volunteering, and travelling;
Advice on how and why you should apply to Chevening.
Feel free to drop in your questions in the comments below, and follow our next editions to see your inquiries answered!
[*] Chinwag (n.) /ˈtʃɪn.wæɡ/: a long and pleasant conversation between friends.
—
In this edition, let's follow Vuong Hao Linh, our current Chevening scholar at Cardiff University, to learn more about her unique course that combines computer science and journalism, her amazing Sustainability self-developed game, various interesting extra-curricular activities she joined in (AGENDA, HostUK), her evaluation of Cardiff University's response to COVID-19, and her personal advice about re-applying and eventually winning the Chevening scholarship.
—
The first thing we have to ask is about your course, which has one of the most interesting and unlikely combination of two vastly different fields. How does this unique course work out for your learning experience?
My course is Computational Data Journalism, which is a joint program between School of Computer Science and Informatics and School of Journalism, Culture and Media at Cardiff University. You feel somehow special when your student card can access the facilities of two schools throughout the year, which would never happen in other courses. 🙂
Whenever people hear about my course name, they can't help but question: What does "computational" even mean? Well, this makes the course soooo challenging. To put it simply, after the course, we would be able to develop our own software for our journalistic purposes. Imagine how difficult it is for almost all of us, who have no experience whatsoever, manage to become a software developer and familiar with three programming languages (python, javascript and html) in six months!
However, this also makes the course really cool too. Having been a journalist for years, I have always been the end-user rather than a creator of a technological tool. Learning how to code opens my eyes to many new, innovative ways of storytelling and presenting information. Let me show you an example, in the second semester of our course, our class would be divided into three or four-person-groups. Each group will work on a journalistic project that enables us to demonstrate our computational skills. Our group with four people came up with an idea of creating a computer game and a long-form article that allows the readers to be in the shoes of a green entrepreneur, so people can empathize how it is incredibly hard to be environmentally sustainable and profitable in the world that has emerged in mass consumption and mass production for decades. You can try to play the game and read the article here.
That is such an innovative and informative game! Tell us more about your role, your team and the development process.
My role in this project is being responsible for coding an activity in the game (A mini maze game where player has to go around the maze to raise funds from investors), and writing the article. I was also in charge of sourcing the interviews so we can make sure all the activities in the game as well as stories in the article are all based on real-life events. Besides, I did a little bit here and there like working on the game story, user experience design, user testing the game with my other group mates. I have learned a lot during this project since I worked in many parts of the project. I now have perspectives of both a developer as well as a journalist so I could understand more about the limitation and possibilities in applying new technologies in a journalistic work.
My team includes four people from four countries with very different backgrounds. Andy who is in charge of the game's technology is from the UK; Rahel who took care of the game's structure is from Germany and Poojil, who is responsible for game stories, is from India.
We developed this game roughly in two and a half months with lots of self-doubts and stress because we were not familiar with the technology behind the game as well as a completely new way of telling a story and we have so little time! But we eventually overcame this, I have the best group mates that I could ask for, actually :).
Is it possible to get a rough estimate of how many people had played this game?
We could not measure the traffic of our sites, unfortunately. However, since we did user testing with a group of around 20 people and their reaction were really positive (the average score they give us is more than 8/10). Our game is also considered to put in a lecture by a lecturer in sustainability and praised by Anna McMorrin, MP of Cardiff North and Vice Chair of the All Party Parliamentary Group (APPG) on Net Zero, to push government toward zero carbon economy.
COVID-19 pandemic's impacts can be felt in every part of the world, in every sector. How would you rate Cardiff University's response to this pandemic? What services/support has Cardiff University provided its students?
I would say my university's reaction to coronavirus pandemic was pretty swift. Cardiff University quickly consulted the course directors, lectures and students about the situation of moving school online on around March 12 even though we did not have any coronavirus cases. Then on March 17, we stopped face-to-face teaching. Around one month after that, we were required to update our location and contact information to the university system so they would know how to reach you if anything happened. University's staff also called/emailed me to introduce the university's advice service during the pandemic on many aspect from visa, money, accommodation…
I cannot tell you specifically how students on the whole campus were supported during the pandemic but I could tell you about my personal experience within my two schools. As students of School of Computer Science and Informatics, we had to do the online attendance check-in every week and told the school if we need any urgent help or not. The School even organized a virtual meeting between students and school's representatives to answer all the questions about changes in school's services, class schedules and exams…All of our coursework deadlines are extended by one week. However, as students of School of Journalism, Culture and Media, we do not have to do such things. It's not that they did not care but I supposed trainee journalists are expected that they can handle such situation gracefully. (It would be very likely that most of journalism students will work in a very unfamiliar environment and under very high pressure, like in a conflicted/war zones after graduation). Additionally, for our course, we can contact our course director and meet him on daily basis to talk about our study.
With that said, personally, I did not use any of my school services during the pandemic. With the fully-funded Chevening scholarship, I did not have any problems with money or accommodation. My course is challenging but I have been able to handle it on my own so far. At this time, I'm still staying here in the UK so I do not have to cope with different time zone when studying or working in my group. Thus, my life has not changed drastically compared to other students who have to work to finance their study here or students who come back to their country.
During this time, many students are working on their graduation thesis, could you offer some glimpses into your thesis topics, and whether you intend to incorporate any COVID-19 element into it?
I do not want to disappoint you but my thesis topic is completely unrelated to the pandemic haha. My thesis is a series of journalistic articles about how the manga fan scanlators can overshadow the professional publishers in bringing hidden gems to English speaking audience. Scanlators are so called "manga pirates" who scan, translate and distribute manga on the internet. Publishers can detest them but also, ironically, benefit a lot from them at the same time.
Even though there is no COVID-19 element in my thesis, it was because of the pandemic, lots of my commuting and shopping grocery time has been spent on reading manga. Thanks to that, I have been able to discover and read lots of manga masterpieces that I am sure they would never been published by the publishers (in both Vietnamese and English) without the scanlators. Piracy, is indeed illegal but no one can deny the innovation it has brought to the entertainment industry. Music and film industry has changed drastically (in a good way for the audience) largely because of piracy, I hope it would be the same with manga industry too.
Apart from excelling in your classes, what extracurricular activities that you have been involved in, either pre-COVID or post-COVID?
Since I have always wanted to study about feminism seriously, I have searched for such opportunities in Cardiff University even before coming to the UK. There is a network called The Gender and Sexualities Research Group led by Professor Emma Renold. Professor Renold developed Primary AGENDA, a resource that secondary school can use to teach children about body image, consent, sexuality, equality through artistic activities. I really wish I could bring AGENDA to Vietnam. You can look at the resource here.
The AGENDA was financially supported Wales Government to implement in secondary and high schools across Wales. I went with Professor Renold to a secondary school to film how students took the ideas from AGENDA and create their own art performance to express their view about gender equality. I was blown away by how creative they were. For example, they created a TikTok dance challenge in which the dancers would wear a white mask with empowering words written all over it and dance to the song written by powerful female artists. They also developed a "crazy golf" in which the player would lead the ball from start to finish line by overcoming the obstructions on the way. I think the "crazy golf" is a great metaphor for a long, winding, complicated road to achieve gender equality in real life.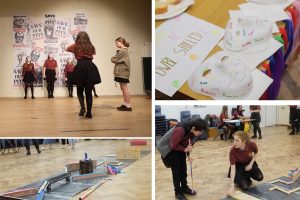 Tik Tok dance challenge and "Crazy Golf" made by students from ysgol plasmawr School. Photo: Hao Linh
You had spent some time living with a British host through HostUK. Did this experience change or challenge any prior conceptions that you had about UK cultures and people?
Yeah, HostUK is a non-profit organization that connect international students to stay with British family for a weekend or a short holiday. I did not go to the host's house alone but with a Filipino Chevener, Rowena who is also my classmate. It was an unforgettable memory.
My host is mental health female worker in Poole. She is quite a character, she is really enthusiastic about Asian culture and society. I am surprised that she reads lots of novels written about Vietnam and by Vietnamese writers (like Duong Thu Huong and Bao Ninh). She watches lots of Vietnamese movies too (we chat a lot about Stephane Gauger's movies).
I and Rowena stayed at the host house for three days, two nights. Three of us stayed up so late every night talking about lots of things about our lives, our jobs. I learned more about UK's society through the conversation. One thing I cannot get out of my mind is the tragic stories of the young carers whose relatives have mental health problems.
The host drove us around town, our plan was to go to the beach to collect fossils (Yes, thanks to the host's instruction, I collected myself an Ammonite fossil), visit Corfe castle, then go to a famous café to drink a hot cocoa. However, the café was full so we could not get in haha. I and Rowena also taught the host how to cook our food. Since my host is a vegetarian, I cooked vegetarian chicken soup, vegan pillow cake and floating cake. Rowena made leche flan (which is caramel flan in Vietnam). It was so much fun.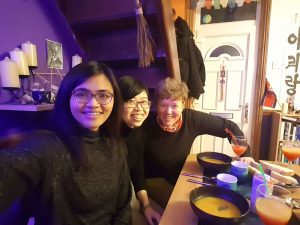 Rowena, me having the first dinner (pumpkin soup) with our host Marina. Marina also served us a delicious dessert with a special no-alcohol cocktail and a homemade tiramisu cake. Photo: Rowena Caronan.
Finally, do you have any words of wisdom/advice for applicants who are interested in applying for Chevening, but think that Chevening is too difficult?
I myself have failed the Chevening scholarship three times. I do not know if I am eligible to give anyone advice but I could say I feel for those candidates who did not get the scholarship this year. Being rejected sucks. However, my three years 'stuck' in Vietnam is not a waste. Every time I reapplied, I rewrote the whole application. I realized that the more I know about myself, about what I have been doing in my job, the more I can benefit from what I am experiencing in the UK now. So, yeah, apply anyway!
---